LIQUOR CONTROL
All-Bottle™ 704
The Berg All-Bottle™ 704 ring pouring bottle top liquor control system provides complete liquor control in a compact affordable unit with 7 price levels and 4 programmable portion sizes (1/8 to 10 ounces) for each price level.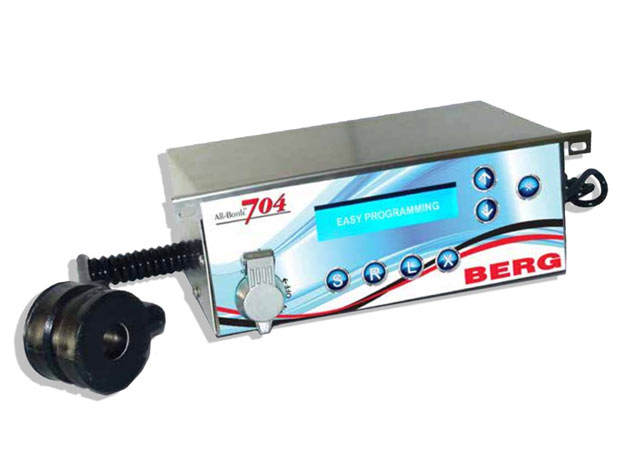 BERG LIQUOR DISPENSING CONTROL ENSURES YOU HAVE A PROFITABLE BAR
You Have Absolute:
You set the portions dispensed, not the bartender. Get the maximum number of drinks per bottle based on the portion programmed and dispensed.
When interfaced to a compatible POS or Cash Register, every drink poured is rung directly to the POS or Cash Register, while being poured, at its correct price, ensuring that the cash due for all items poured is collected.
Every drink is the same portion and ingredients as per your specifications. The experience level of the bartender is no longer a factor in the taste or presentation of a Shot, Cocktail or Draft Beer portion.
ALL-BOTTLE™ 704
Simple. Affordable. Accountability. Control.
The All Bottle 704 liquor controls are equipped to serve as stand alone liquor control systems or as part of a Berg Infinity Network or Berg Dispenser Network liquor control and management system, and are easily interfaced with your point of sale (POS) terminal and computer or Ethernet local area network (LAN) for programming, reporting and remote access.
All pours controlled and recorded

Consistent drinks

Eliminates over pouring, reduces spillage and other losses

Easy to set up and use
Easy POS & computer system interface

After hours lock out

Typically pays for itself in 3 to 6 months

Certified to NSF/ANSI sanitation and CE standards
The Perfect System for:
Bar Beverage Control Systems and Berg ensure that Bar operators control all aspects of their Alcoholic Beverage operations by eliminating overpouring, give aways, cash theft, brand switching and almost all other overt and covert activities that reduce profit at today's bars.
Bars & Restaurants

Night Clubs

Stadiums & Sports Centers

Festivals
Hotels

Casinos

Golf & Country Clubs

Gentlemen's Clubs